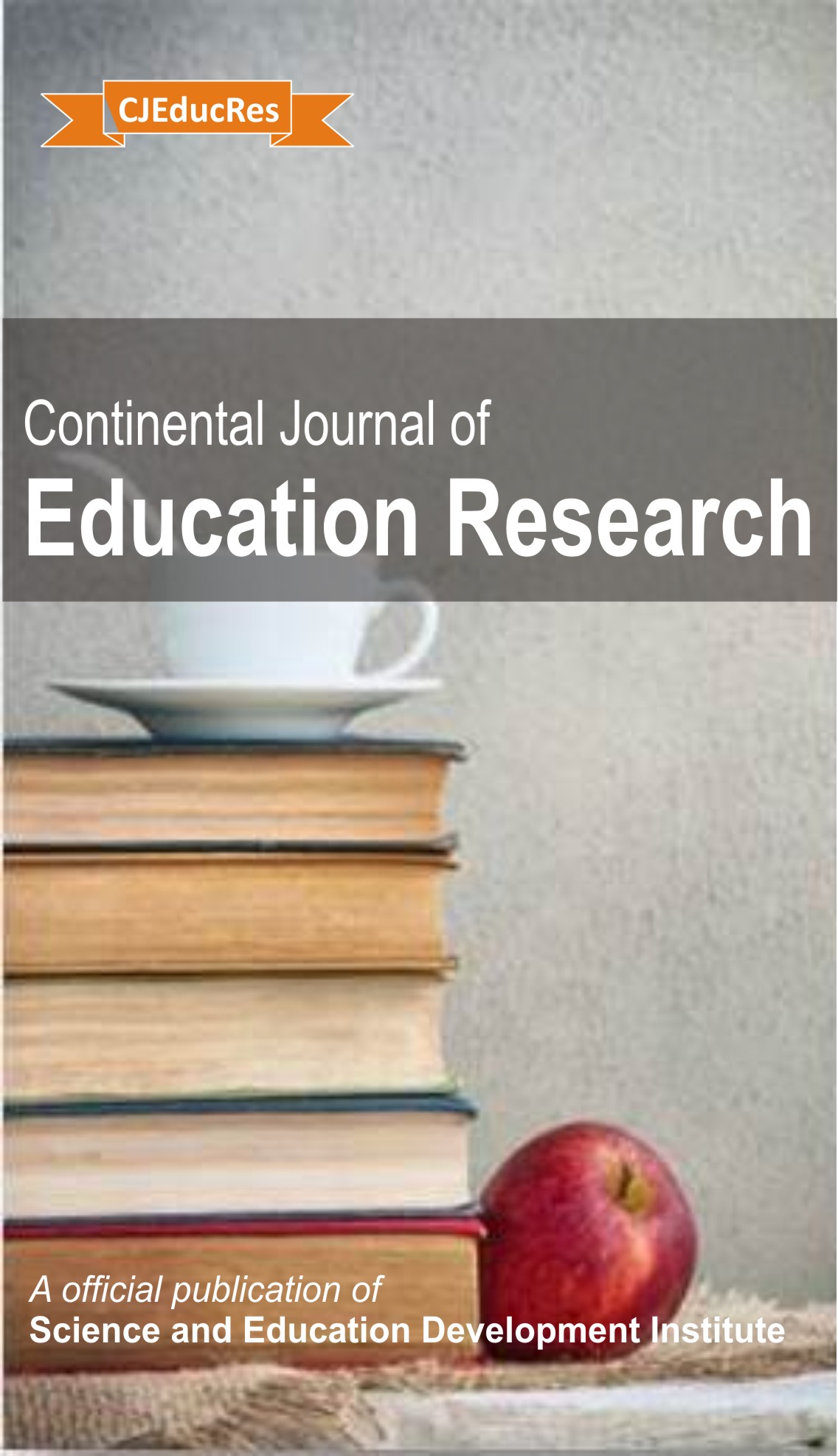 DOI: 10.5897/UJ-CJEducRes
Email: managingeditor.olawale71@gmail.com

---
AN ASSESSMENT OF SLANG AND MOBILEPHONE MESSAGE LANGUAGE USE BY SENIOR SECODARY SCHOOL STUDENTS IN KWARA STATE, NIGERIA: A CASE FOR SUSTAINABLE EDUCATION ADVANCEMENT
DOI: 10.5897/UJ-CJEducRes.17.004.1 | Article Number: 07E3AD2 | Vol.9 (1) - June 2016
Author: Bello Y
Keywords: Standard British English, slang, mobilephone message language
This study investigates slang and mobilephone message language use by senior secondary school students in Kwara State, Nigeria. Ninety students (fifteen males and fifteen females each) were selected each of the three Senatorial Districts of Kwara North, Kwara Central and Kwara South through a stratified random sampling technique. The instrument used was a thirty-item researcher-designed standard British English, slang and mobilephone message language use questionnaire which was given to two English language experts for its validity. The instrument was subjected to test re-test technique of three weeks interval after the first administration of the instrument. The scores obtained in the two administrations were correlated using Pearson Product Moment Correlation statistic 0.05 significant level, which resulted in 0.61reliability index. The findings revealed that high significant differences existed between standard British English and slang use by the students, as well as high significant differences between standard British English and mobilephone message language use by the students. As a result of the findings and the conclusion, it was recommended that teachers should as much as possible discourage the use of slang and mobilephone message language use among students by constantly engaging the students in oral drill and short-gun tests to awaken their standard British grammatical consciousness. It was also recommended English experts should be invited to give talks on the danger inherent in the use of slang or mobilephone message language, among other recommendations.
Aneke, A. (2011). Africa Blames God. Ibadan: Spectrum Book Limited.
Asher, R. E. and Simpson, J. M. (1994). The Encyclopedia of Language Linguistics. Vol. 7. New York: Pergamon.
Bello, Y. (2011). Students' personality traits and performance correlates of high grades in senior School certificate English in Kwara State, Nigeria. Unpublished Ph.D. thesis, University Ilorin, Ilorin, Kwara State.
Bight B.B (2003). English Words and Their Backgrounds. New York: Appleton and Co.
Boylan, J. (2005). "Hatchet Job and Hardball: The oxford Dictionary of American Political Slang. Columbia Journalism Reviews.
Eble, C. (1996). African-American contributions to American slang. 19th LACUS Forum, edited by Reich, R. A. (1993). Illinois: LACUS.
Ellis, J.P. (2006). The second language. Oxford O.U.P.
Termah-Abah (2010). The prevalence of slang use. Lagos: Olivertree Publishing Ventures.
Jowitt, D. (1991). Nigerian English Usage: An Introduction. Lagos: Longman.
Navv, B.I. (2013). Hearing from others from a distance. An Introduction to Communication. New York: Longman.
Oyedeji, L. (1997). Wisdom: The ultimate goal of education. Lagos: Inaugural Lecture, University of Lagos Press.
Urser, K. (2001). Gender Differences in Language Use. The Role of the Addressee.16th LACUS Forum, edited by Jordan, M. P. Illinois, LACUS.
Zinka, Z. Z. (2011). Good, but side effects of mobile phone on learners. Unpublished M .A. Ed. Thesis, University of Maiduguri.